Commercial farm developers who occupy land in three regions of the country have received warnings for leaving the land underutilised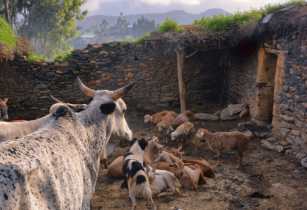 The Ethiopian government is to get tough on dormant commercial farmers. (Image source: Rod Waddington)
Seven commercial farm developers, who occupy a total of 37,500ha of land in three regions, have received warning letters for leaving the land unutilised for so long. The area of farmland is almost equivalent to three quarters of Addis Ababa city or three times the size of Bole district.
During the early weeks of July 2016, the Agricultural Land Investment Administration Agency wrote letters to six developers, including one final warning. This comes after a four and six-year wait, respectively, for the developers to show significant produce from their estates. The investors who leased the land, which ranges from 500ha up to 10,000ha in the SNNP, Gambella and Benishangul-Gumuz regions, have failed to bear fruit. In this respect, the total land leased in SNNPR takes the lion's share.
Among the seven companies involved in the situation, some included are the Omo Valley Farm Corporation Plc, Gutit Farm Development Plc, Ayka Addis, Dasani Farm, Teame Farm and Dasench Farm, are located in the southern region of the country - specifically across Omo. These farms occupied a total land area of 35,500ha. From these farms, Ayka received a final warning, while the rest only the first warning.
Ayka Addis, the textile giant owned by Turkish investors, leased 10,000ha of land from the region two years ago. The company leased the land in a joint venture with a local investor to source cotton material for its textile plants. As per the contract, the company was expected to develop 4,000ha of the land.
However, there is nothing there, said Daniel Zebene, communication director of the agency.
"The problem emerged after a disagreement with our clients from Europe," Wondem Getahun, advisor for Ayka, told Fortune. "There was a report compiled by news agencies that suggested that people had lost their land because of Ayka's contract with the region, which was intended to erode Ayka's reputation."
"Following this, we ceased our activity on this farm," he said.
Just this year, the Southern region administration moved the mandate of overseeing farm land for investment from its Investment Commission to a specific department under the Agriculture Bureau. Months ago, the officials of the region discussed with the investors. During the discussions, problems revolving around such investments were highlighted. The investors were implicated in using the land for other purposes, as well as the impact this had on the environment.
The region is now getting ready to conduct a further study to identify the specific status of commercial farms.