The role of renewable energy within the farming mix is to be discussed at an Agri-Tech East meeting, 'We've Got the Power; On-Farm Solutions to Energy Demands' on 23 May 2019 at Hethel Innovation, the UK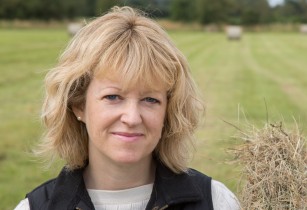 Dr Belinda Clarke is the director of Agri-Tech East. (Image source: Agri-Tech East)
About 50 per cent of AF Group farmers have invested in or have access to green energy, and renewables are becoming more cores to the business as the benefits become more valuable than government incentives.
Dr Belinda Clarke, director of Agri-Tech East, commented, "The amount of kit directed at on-farm energy generation was notable at Cereals this year and so was the interest in crops grown specifically to feed anaerobic digestion (AD) so discussion about the pros and cons of the approaches and innovations in the technology seemed timely."
Jon Duffy, chief executive at AF Group, said, "Although early installations focused on taking advantage of incentives to help farmers diversify their businesses and create extra revenue, more recently our members have been designing and installing systems according to their own consumption patterns."
"Solar is by far the most widespread due to its lower entry costs and certainty over performance, which benefits from the predictive science available in terms of sun or wind hours etc. The proportion investing in wind and /or AD is much smaller."
"One of the main concerns, highlighted by our members, is that the systems do require quite a lot of time and effort to keep the systems running, from monitoring PH levels through to maintenance of the CHP (Combined Heat and Power) engine.
Innes McEwan, head of farming for Future Biogas, noted, "Green waste from councils and food waste can generate gate fee income and produce high levels of energy, although this can be unreliable in quantity and consistency. Food waste 'soups' are becoming available, but often the problem can be that the source of origin of the food waste can be a long way from rural AD sites."
Alex Parnell, from Future Biogas, "The future of renewables including biogas will be guided by the infrastructure that exists to distribute the renewably generated power or fuel on a national scale."
Jon Swain, senior consultant for NFU Energy, said, "All energy generation, on-farm or not, is affected by government policy. We must, however, accept that both Renewable Heat Incentive (RHI) and Feed-in Tariff (FiT) are incentive schemes designed to popularise renewable energy, not support them in the long term."
Stretham Farmer Luke Palmer, director of FC Palmer and Sons, added, "The farm has been trying to seek technical advantages for years, be it from water management, precision farming techniques, or using less staff for more output."