On 16 February, the International Fund for Agricultural Development (IFAD), represented by its President Alvaro Lario, and the Government of the Democratic Republic of the Congo (DRC), together with the DRC's Permanent Representative to IFAD, Ambassador Paul Emile Tshinga Ahuka, signed a loan agreement to reduce poverty and ensure food sovereignty in rural areas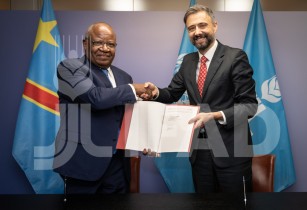 Loan signing between DRCongo and IFAD. (Image source: IFAD)
IFAD is providing US$45.2mn in financing for the Empowerment through Nutrition-sensitive, Inclusive and Resilient Agricultural and Rural Entrepreneurship Project (AVENIR), cofinanced by DRC and Agence Française de Développement (AFD).
This new project, falling under the oversight of the Ministry of Agriculture seeks to reach two million people in the coming seven years and was designed to support the sustainable transformation of family farming with the following three objectives:
1. Improved natural resource management to help mitigate the effects of climate change
2. Higher incomes for rural households in the provinces neighbouring Kinshasa
3. A more varied diet for rural people
AVENIR will respond to strong demand for agricultural products on major urban markets such as the metropolis of Kinshasa with its 17 million inhabitants, while lowering imports.
Moreover, this project is fully aligned with the DRC's national policy on food security and nutrition, as well as IFAD's strategic objectives, particularly with regard to nutrition. It will be implemented from July 2023 to June 2030 in the four provinces of Kongo Central, Kwango, Kwilu and Mai-Ndombe, as well as the Kinshasa periphery.