The Industrial Internet of Things (IIoT) is set to make a sizeable contribution to the global economy by 2023, according to a new global study by Inmarsat, the world's leading mobile satellite communications company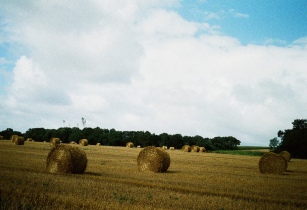 With IIoT, agri-businesses to increase in the coming years. (Image source: uncoolbob/ Flickr)
The company founds that the businesses from the agriculture sector expect IIoT to increase their revenues by an average of US$60mn or 14 per cent by 2023.
;The research also found that companies face significant challenges in deploying IIoT technology. Connectivity was a particular concern, with 26 per cent of agriculture respondents struggling to secure the communication networks needed for reliable and resilient deployment.
The study was comprised of 750 businesses from across the globe, with a combined turnover of US$1.16 trillion, ranging across the agriculture, energy, maritime, mining and transport sectors.
IIoT is expected to revolutionise how businesses function in the next few years. There is expected to be increased automation and operational efficiency through the use of real time data and machine-to-machine communication right across the world.
Paul Gudonis, president, Inmarsat Enterprise, commented, "IIoT is emerging as a major force in the modern enterprise and it's clear that businesses are prioritising satellite technology to transform their operations and achieve competitive advantage."
Inmarsat's services are enabling end-to-end transparency across the production, extraction, manufacture and multi-modal transportation of goods, delivering operational efficiencies to organisations from the agriculture, energy, maritime, mining and transport sectors.
"However, many businesses are struggling with security, skills and connectivity challenges in large scale IIoT deployments. Around 56 per cent require additional cyber-security skills and 34 per cent don't yet have access to the connectivity they need. For global businesses that require a global communications network, satellite connectivity will play an important role, guaranteeing constant secure data transmission wherever their IIoT infrastructure is located," Gudonis concluded.