Bühler is committed to overcoming inefficiencies, particularly in African value chains - this was the message given at the company's Annual Results event, held in Uzwil, Switzerland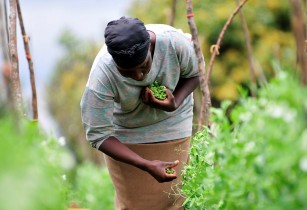 High-end technology has incredivle potential to help African value chains become more productive. (Image source: CIAT/Flickr)
Sharing knowledge with African partners, producers and farmers to find new, sustainable ways to improve the entire value chain is a priority, along with empowering women who make up 70 per cent of the entrepreneurs Buhler works within Africa.
The continent is an important market for Bühler and progress, especially in regard to improving processing, has been made in the past five years. With more than one billion Africans needing access to nutritious food, the potential is enormous.
Reducing waste along the value chain is particularly important, with the example of maize being cited, with 20 per cent losses often reported in the post-harvest stage. This level of wastage makes it more difficult to ensure products are affordably priced, and a way to reduce waste is to introduce optimal sorting processes to get the most out of every maize crop.
High-end technology has incredible potential to help African value chains become more productive and ensure millions of people can access safe food. This includes optic technology for sorting grains, which can be a cheap processing solution for Africa's rural economies.
Education and training is another strategic priority for Buhler in Africa with examples including a cocoa training school based in Abjidan, Côte d'Ivoire, and the milling school in Nairobi, Kenya.