The African Development Bank (AfDB) has signed two agreements to finance agri-business development projects through the Agriculture Fast Track Fund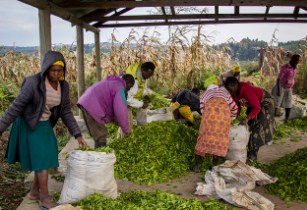 The grant focus on encouraging women's participation and empowerment in the agri-value chain. (Image source: CIFOR/Flickr)
Funded by the US, Denmark and Sweden, the Agriculture Fast Track Fund aims to support Africa-based agri-business SMEs by financing the development costs of agriculture infrastructure projects that span the value chain from rural feeder roads to agro-processing and marketing facilities, to out-grower schemes.
The projects focus on contributing to food security, providing support to smallholder farmers and encouraging women's participation and empowerment in the agri-value chain.
The two Ethiopian grant-winners were selected after a competition in 2017. Zebad General Export Import Plc, a coffee-processing firm, was awarded US$150,000 to conduct environmental and social impact assessment (ESIA) feasibility studies to enhance the bankability of the commercial coffee farms and premium coffee processing facility' project. HAE Spice and Baltina Plc, an organic farming company, was awarded US$195,000 to conduct detailed feasibility studies to prepare the organic and fair trade red pepper and tropical spices in Ethiopia. These two new projects grow the pipeline of the bank's US$1.7bn portfolio in Ethiopia.
The grant approval is part of a bigger initiative that the bank launched in Accra, Ghana, in March 2018, comprising 12 new projects in 10 countries under the Agriculture Fast Track Fund, said the country manager Abdul Kamara.