African Farming speaks with Bühler Nigeria's managing director, Manuel Murrenhoff regarding the company's efforts to support West Africa in achieving food security and rice self-sufficiency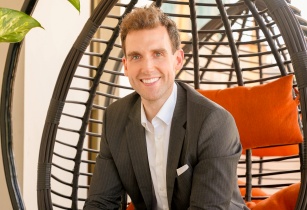 Bühler Nigeria's managing director Manuel Murrenhoff discusses the company's efforts to boost rice production in West Africa. (Image source: Bühler Nigeria)
How is Bühler supporting the growth of rice production and processing in West Africa?
Manuel Murrenhoff: Bühler is a Swiss technology partner for grain and food handling, storage, and processing, not only in West Africa but around the world. We have built more than 30 rice mills in the region and support our customers with a strong commercial and technical team with more than 60 employees based in Abidjan (Ivory Coast), Lagos and Kano (Nigeria) and Douala (Cameroon). This allows us to be close to our partners and support them in all stages of the project lifecycle: Project conceptualisation, financing, technical consultation, manufacturing, installation, commissioning, and after-sales services. Additionally, we place special emphasis on sustainability and support our partners to leverage circular economies. This could mean using rice husk to produce steam and electricity, turning rice brokens into rice semolina or flour, and producing fortified rice kernels or rice-based breakfast cereals and snacks.
What type of equipment/ solutions do you provide to these regions?
Manuel Murrenhoff: Bühler is an end-to-end solution provider for paddy-to-white rice mills with a strong footprint in West Africa. This allows us to complement our high-quality equipment with fast and efficient on-site services such as installation and commissioning, process improvement audits, maintenance services and emergency support.
What are some of your latest innovations in rice processing?
Manuel Murrenhoff: Bühler has recently launched three innovations for the rice milling industry. First, we have the DRHK Top Husk De-Husker, which stands out with automated roll change and increased capacity. Second, we have the Bühler Sortex, which can now be complemented with the Sortex Monitoring System (SMS). The SMS provides an overview of the key performance indicators of your Bühler SORTEX machine and delivers actionable insights to increase productivity, yield, and efficiency. Dashboards tailored towards different users need help to make informed decisions from anywhere. Third we have our flagship TopWhite Whitener BSPB. For this, we have introduced the diamond grinding wheel which lowers energy consumption by as much as 10% while increasing the grinding wheel's life cycle about five times.
Besides Nigeria and other West African regions, which other parts of Africa do you actively provide your services to?
Manuel Murrenhoff: With more than 700 employees in more than 20 offices and service stations in the Middle East and Africa region, Bühler remains near its customers to ensure fast and reliable services. These offerings are complemented by one manufacturing side in South Africa and two application and training centres: the African Milling School (AMS) in Nairobi, Kenya, and the Cocoa Competence Centre (CFIA) in Abidjan, Ivory Coast. Currently, we are building the Grain Processing Innovation Centre (GPIC) in Kano, Nigeria. Upon completion in Q4 2023, the GPIC will act as the Centre of Competence for local grain milling in Africa. We envision an ecosystem of collaboration to develop new processes, recipes, and products to add value to locally produced grains. We see locally produced and processed grains as the key to Africa's food security and invest in the technological infrastructure on the continent: In Africa. For Africa.
What are Bühler's goals in helping Africa achieve rice self-sufficiency?
Manuel Murrenhoff: Bühler's goal is to support Africa in achieving food security by leveraging the newest technology and innovation. Rice self-sufficiency is a crucial constituent in this. As the preferred technology supplier for the public and private sectors, we understand our biggest leverage in reducing wastage, water and energy consumption while increasing yield and final product quality. Every year, Bühler invests 5% of its turnover into innovation and R&D to allow customers to keep an edge in the market using the company's solutions. It is our conviction that we can support our partners best because we are close to them. This helps us understand their needs and challenges, while also allowing us to provide products and services that fit the needs of Africa.