The Republic of Korea has extended US$9mn for the development of a rice industry in the central region in Ghana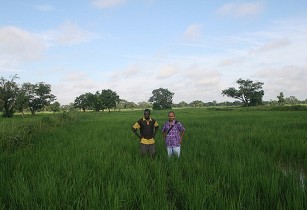 With the help from Korea, Ghana hopes to boost its rice production. (Image source: M Poudyal/Flickr)
Following the recommendations by a group of rice experts from Korea, the particular region has been selected as having the potential to produce sufficient rice to feed the citizens of Ghana as well as for export, according to Ghaphic.
This has been announced by Dr Owusu Afriyie Akoto, minister of food and agriculture in Ghana, during the fourth Ghana National Rice Festival held in Accra. He said that after assessing all the 10 regions in the country, the industry experts had expressed the view that the central region was more endowed.
Ghana has to depend on rice import immensely to meet the domestic demand. The source revealed that the import value of rice in Ghana has escalated eight-fold in last eight years, from US$152mn in 2007 to US$1.2bn in 2014 and 2015.
"In the same period, the volume of rice imports climbed from 441,000MT to 630,000MT," Akoto said to the source.
Given the statistics, Akoto stated that such huge increase in import value in rice affect the country's trade balance as well as make Ghana vulnerable to the global price increases and supply shortages in the rice market.
In order to reduce the rice import and increase domestic production, Ghana has taken innovative measures aiming to transform its agricultural sector into a high-yielding sector, said the source.
With the investment from Korea, Ghana hopes to promote vibrant agribusiness in the country, achieving food security and creating jobs for its citizen.