Observers say the 'New Nigerian Farmers' project has been the catalyst in a quiet but steady agrarian revolution in Kwara State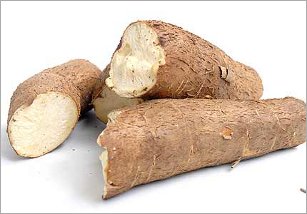 Cassava is grown in just about every Nigerian State and in the biggest producing states this mono-culture crop stretches as far as the eye can see, like wheat in North America which it rivals as a food energy crop and just as versatile in livestock feed, agro-industrial processing and biofuel (bioethanol) production. Nigerian governments at state and federal levels would like a big slice of this world trade in cassava products including starch, chips and pellets for livestock feed, ethanol, glucose syrup and of course flour for bread, cake and biscuit manufacture.
Page 5 of 5
Role models for self sufficiency
Farmers like Graham Hatty are clearly benefitting Nigeria but is Zimbabwe, where white Zimbabwean commercial farmers used to own 70 per cent of the fertile agricultural land, feeling the loss. Ninety per cent of the land in Zimbabwe is now in the hands of black Zimbabwean farmers, but many lack commercial farming experience and are without adequate inputs. "This has not been a land reform program at all, this has been a political program," John Worsley-Worswick of Justice for Agriculture a Zimbabwean campaign group speaking in Harare told Reuters. "It has seen a decline in agricultural production down to levels of 15-20 per cent of what was there before. We are looking at the worst farming year ever this coming year (2010), there is less arable land that is being prepared, less inputs available. Regardless of what sort of season we have, right from the onset it is destined to be a disaster," he said.
Back in Nigeria the one million residents of Shonga District were initially apprehensive when the Zimbabwean farmers arrived but that appears to have changed. "We now have electricity, our health is improving because we have a new clinic and water, some of our sons and wives have found work on the farms" said 65-year-old Zubairu Abubakar, an elder of Chattaburo, one of 33 villages within the Shonga farms.
Role models
Governor Saraki's plan is for the commercial farmers to become role models by transferring their skills to local Nigerian employees. "We want young Nigerians to be attracted into agriculture," he said adding how the experiment has surpassed all his expectations for regional economic development in places such as Shonga. "Now more than 3000 people have been employed. "Let me give you an idea, the amount of money that goes out on salaries, wages and other inputs is actually competing with local government funds for that area", he said.
Local government officials claim this new large-scale approach to farming in Zwara has increased local food supply, brought new skills to local farmers and triggered the emergence of new agricultural industries. Professor Mohammed Gana Yisa, Kwara state's commissioner of agriculture, said 15 new commercial farms had been developed in addition to the 13 at Shonga and that 3000-4000 people had found work in the Shonga farms alone. Nigeria's government has invested in a multi-million dollar cargo terminal which it says will be the continent's largest. "We are focusing on the Shonga farms. They are producing large, so we are positioning ourselves to move large quantities of farm produce to anywhere in the world," said Razak Atunwa state commissioner for works and transport told Reuters.
Developments
Recent developments at Shonga farms include first-stage completion of a N2.9bn irrigation project. The state government underwrote the project but the federal government has promised to underwrite N800 million of the cost. Farmers at Shonga say cassava yields will double once infrastructure and equipment is in place and irrigating.
With 3000 to 4000 people employed at each Shonga farm during the harvest season the positive impact of this commercial farming centre in terms of local employment is clear to see. And as the surrounding transport infrastructure continues to improve and the cold-storage facility at llorin airport is completed there is potential for agricultural produce from Shonga to be exported worldwide.
Local observers say the 'New Nigerian Farmers' project has been the catalyst in a quiet but steady agrarian revolution in Kwara State. And with continued support from federal government and wider political support from other states, it has every chance of being the catalyst in a nationwide agrarian revolution. This new venture in Zwara could be the spark that set alight Nigerian agriculture and eventually eradicated the three billion dollars of food imported annually to sustain 150mn people as Nigeria becomes self-sufficient in food production
"Zimbabwe's loss is Nigeria's gain" Governor Saraki told the BBC during an interview in 2009. "I thought if Zimbabwe doesn't want them maybe they'll come here," he explained. "What's good for Africa should stay in Africa and these people are at least second and third generation farmers who see Africa as their home. They've got skills and they've brought development to this area of Zwara State and Nigeria."
Setting up shop in Shonga
Political turmoil in Zimbabwe starting in 2001 had left large numbers of white farmers languishing without their farms and livelihoods. Governor Saraki saw these men and women as African farmers with generations of commercial farming experience in Africa, but with their skills now lying as fallow as their land.
He immediately sent a delegation to the Zimbabwe Commercial Farmers' Union in Harare and enquired as to the appetite for a number of the displaced farmers to come to Kwara State with a view to restarting their farming careers and rescuing their livelihoods in Nigeria. More important long-term would be creation of a commercial farming hub in Kwara to provide the basis for agricultural capacity-building, training of local farmers and long-term sustainable development of the indigenous farming community.
After a number of investigative visits 13 Zimbabwean farmers relocated to Nigeria to form Shonga Farm Holding Ltd named after the District in Kwara State where the farms were established. The company was originally formed as a 'Special Purpose Vehicle' to facilitate the public-private partnership in respect of the commercial farming project of the Kwara State Government with five major banks eventually agreeing to fund the project through debt and equity financing options. The farmers were awarded 25-year leases over 1000 hectares each and after long financial negotiations secured $20mn in new loans and investment from the consortium of Nigerian banks. Shonga Farm Holdings Ltd became an independent entity with limited state ownership.