Lean farming has the power to make agricultural operations more effective and improve profit margins – but it requires a radical shift in thinking, said Conor Colgan, farmer and business consultant who has spent the last 10 years pioneering lean farming methods as a result of his MBA Masters Thesis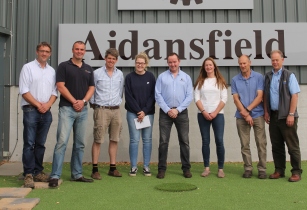 Principles of lean farming implemented via Value Stream Maps at Aidansfield. (Image source: 4Sight Farming)
He's turned his 800-acre mixed farming business, Aidansfield in Northumberland, into a state-of-the-art beef and cereal research facility underpinned by lean thinking, complete with precision technology and automated operations.
He grows 630 acres of combinable crops and keeps 140 pedigree Salers cows on 165 acres of grassland.
Colgan hosted a group from 4Sight Farming, a KTIF-funded project to look at the true cost of production when fixed costs are allocated in real-time to a crop. As well as recording labour and machinery hours for analysis and benchmarking, the 30 arable farmers in Scotland are involved in discussion groups assessing different management principles to maximise profitability, including lean farming.
"By looking at your business as a whole ecosystem rather than each process in silos, it eliminates elements that are not adding value to the quality of your delivery. Lean thinking can introduce more predictability into your business and give you the confidence to make management and investment decisions," Colgan stated.
As well as a tour of the new lean-designed farm steading and research facilities - which are a vehicle for farmers, supply companies and processors to trial new methods, Colgan introduced the group to Value Stream Mapping, the intrinsic methodology to lean farming.
He used VSM data from his own enterprises to begin a discussion on how management and investment decisions can be improved with a full grasp of process time, the nature of fixed and variable costs, and their relationship to produce quality delivery.
Eric Anderson, director of Scottish Agronomy and 4Sight Farming project founder, said, "Lean is a term often used in manufacturing businesses, and this visit has given a valuable practical insight into how it can be applied to an arable or mixed enterprise. It has prompted greater consideration for the relationship between the business' fixed costs with variable costs and where you can eliminate 'waste' in unnecessary activity to streamline your business, without compromising on quality."
Angus arable and potato farmer Hugh Black said, "It has given me a greater understanding of how we can extend the lean approach from start to end in our business - rather than in isolated processes - in order to drive greater overall efficiency and value. It's a shift in mindset and the visit and surrounding discussion has given me the confidence to move forward."