With decisions in place to change the farming system in Lesotho, the Minister of Agriculture, Food Security and Nutrition, Thabo Mofosi has urged farmers to plant more wheat for winter ploughing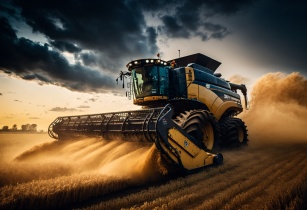 The ministry has planned to change farming methods this year. (Image source: Adobe Stock)
While addressing the media at a press conference held on 5 May in Maseru, the Minister discussed their plans to conduct a soil survey and change the way they have been handling the land, thereby enabling more food supplies to be produced from the same fields this year.
He mentioned that they would help farmers by showing them how to use agricultural machinery, thereby increasing agricultural production. In addition to this, Mofosi also revealed that the ministry would hold an exhibition at Kolonyama in the Leribe district.
During the exhibition, experts in machinery would be particularly engaged in teaching farmers how to use different types of farming and harvesting machinery. This is because the ministry has noticed that farmers do not know how to use the agricultural equipment, resulting in most cases of unsuccessful agricultural produce.
In regard to food storage, Mofosi discussed about his conversations with Lesotho Flour Mills, that farmers around the district of Maseru would use their storage while waiting to sell their produce, adding that farmers in other districts would use Disaster Management Authority (DMA) storages. He also assured that every district would have a harvesting combine.
The Minister said their expectation was to plant 5,400 hectares of wheat. 3 tons per head would be produced out of which, 16200 tons would be harvested. He also mentioned that fertilisers would be present in storage and would be available to farmers – at the same rates as last year –for winter ploughing.
On the other hand, the Minister also said they had proposed soft loans for farmers from the banks and were currently awaiting response. In conclusion, he urged people to invest more in agriculture as it is a secure investment for the county's economic growth.