Liberian vice-president Joseph Boakai has urged Liberians to work towards being food sufficient by increasing their rice and cassava production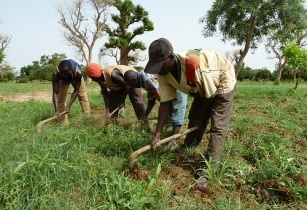 WAPP is a 10-year-old project funded by the World Bank that aims to promote trade in West Africa. (Image source: Presidencia del Gobierno de Canarias)
According to Boakai, rice and cassava are Liberia's staple food and producing them should be a high priority for Liberians as they attempt to combat food security issues.
Speaking at the launch of the West African Agricultural Productivity Programme (WAAPP) held at the SKD Sports Complex in Paynesville, Boakai said that he hoped the project will promote trade in the country.
The programme aims to improve the production of rice and cassava in eight counties including Bong, Gbarpolu, Grand Bassa and Sinoe.
"The WAAPP project is embraced by the government and its people for the promotion trade in the country, as well as among West African states," Boakai remarked.
"We hope that this project will yield the desired outcomes."
Boakai also took the opportunity to highlight WAAPP's agricultural achievements in Liberia.
"I am always pleased and honoured to be a part, and to play an active role in undertaking that focus on our agricultural sector," he said.
WAAPP is a 10-year old programme funded by the World Bank with support from the Economic Community of West African States (ECOWAS).
The coordinator of the WAAPP project in Liberia, Cyrus Saygbe, stated that the production of rice and cassava, as recognised by stakeholders, will promote agricultural growth in the country and play a role in the economic development of citizens.