Louise Jupp, co-founder and director of Terreco Aviation (Pty) Ltd and a licensed drone pilot, has released her debut book 'Precision Farming from Above: How Commercial UAV/Drone Surveys are Helping Farmers to Improve Crop Management, Increase Crop Yields and Create More Profitable Farms'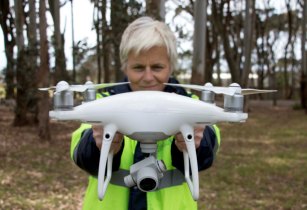 Louise Jupp is co-founder and Director of Terreco Aviation (Pty) Ltd and a licensed drone pilot. (Image source: Louise Jupp)
The book debuted as a #1 new release in surveying and photogrammetry categories on Amazon.com and went to #2 best seller behind fellow South African, Elon Musk.
Louise has explained the major benefits of commercial drone systems and drone surveying to farmers. She unpacks drone technology, aerial surveys, advances in specialist cameras, multispectral/thermal imaging, high-end software and analysis, applications and commercial aviation law in a way that makes sense to any agri-business.
'Precision Farming from Above' is specifically aimed at progressive farmers anywhere in the world who are looking to improve land management, increase crop yields and operate a more profitable and environmentally sustainable business.
Louise Jupp was one of the first women to obtain her license from the South African Civil Aviation Authority in 2016. She aims to help farmers and growers worldwide achieve more productivity and to help nations meet rising global demand for food production at a significantly lower environmental cost.
The book explores the use of sophisticated pilot- operated, commercial drone surveying systems as applied to agriculture:
– Drone technology: recreational vs commercial
– Aerial surveys for agribusinesses
– High-resolution cameras
– GPS guided fight programming software
– Data analysis
– Application
"I especially want farmers, globally, to understand the enormous benefits commercial drone surveying systems offer to their businesses as it relates to precision farming, productivity gains and more sustainable land and crop management," Jupp added.
The book also explains the massive advantages of turnaround time for this range of high-quality information to be converted into actionable data for farmers. This high-tech, precision farming approach means farmers have a near real-time understanding about the state of their farms and are therefore more able to make more informed, proactive and effective decisions on their current and future activities.