Manus Bio Inc and STK Bio-Ag Technologies (STK) have partnered to develop and commercialise plant-based active ingredients as highly-efficacious biopesticide products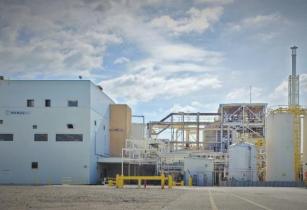 Manus Bio Facility in Cambridge. (Image source: Manus Bio Inc)
The first active ingredient in development by the collaboration has demonstrated potent efficacy for insect control across multiple classes of pests that commonly impact fruit, vegetable and row crops.
Manus Bio will be the exclusive supplier to STK for this first key ingredient as they work together to commercialise this proprietary and patented STK product.
As this active ingredient is of low abundance in nature, a major challenge has been to produce at the scale and economics required for deployment as a commercial crop protection solution. Manus Bio is using its advanced bio-fermentation platform and industrial manufacturing capabilities to develop a robust production process to supply this and other ingredients at the volumes and costs required to enable widespread use as biopesticides. STK will apply its unique expertise in advanced plant science and bio-ag solutions to enable the development and commercialisation of these new cutting-edge botanical - based solutions worldwide.
Dr Ajikumar Parayil, CEO of Manus Bio, commented that the collaboration aims to develop sustainable natural products for agricultural applications, which is an excellent fit for high-performing microbial natural products chassis.
"Manus has proven capabilities in the large-scale production of complex natural ingredients. We are thrilled to be working with Manus Bio to bring this innovative active to become the basis for a family of new solutions for the benefit of farmers dealing with the growing need for sustainable farming," said Arye Tenenbaum, CEO of STK.