Approximately 10,000 women in Nigeria will be selected as direct beneficiaries of a two-year agricultural intervention as Value Seeds launches its COVID-19 Recovery and Resilience Intervention Project in partnership with the Mastercard Foundation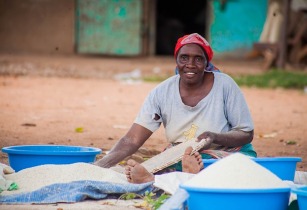 The programme is expected to significantly increase the market volume of premium maize and rice grains by about 450,000 tonnes. (Image source: Watanda Ambrose/Pixabay)
The programme is expected to significantly increase the market volume of premium maize and rice grains by about 450,000 tonnes. It will also create indirect jobs in the value chain of crops, including input traders, farm workers, transporters, logistic officers, marketers, feed mills and agro-processing workers.
"Value Seeds advocate that a bottoms-up agricultural transformation is the best path to inclusive economic growth to build the Nigerian population's resilience. The goal of the project is in alignment with the Mastercard Foundation COVID-19 Recovery and Resilience Programme, which focuses on the provision of direct support to companies in the agricultural value chain, specifically to ensure that smallholder farmers have access to markets and to maintain food security," said Chidinma Lawanson, country head Nigeria, Mastercard Foundation.
Through this intervention, Value Seeds can contribute to re-igniting the Nigerian economy and ensure that food supply chains are enhanced, thereby increasing the economic health of smallholder farmers while improving employment indices.