Moët Hennessy, the wines and spirits division of the LVMH Group, and ChangeNOW, announce their partnership within the context of the World Living Soils Forum, an international event dedicated to soil regeneration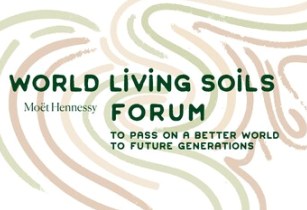 The association is an opportunity to accelerate solutions that have an impact on soil health. (Image source: World Living Soils Forum)
The World Living Soils Forum is a unique event designed to share and promote concrete solutions and actions for sustainable viticulture and regenerative agriculture. Organised by Moët Hennessy, its first edition brought together a large community of researchers, experts, public institution representatives, professional associations and companies from the wine and spirits, as well as agri-food industries striving to preserve and regenerate the soil.
Driven by a common desire to accelerate widespread mobilisation and initiatives taken by all stakeholders on the essential issue of living soils, Moët Hennessy and ChangeNOW announced their partnership to extend the reach of the World Living Soils Forum. The association of their expertise is an opportunity to scale up and deploy concrete solutions quickly.
This joint commitment also materialised at the 2023 edition of ChangeNOW, organised in Paris from 25-27 May 2023, through the WLSF Soils Hub by Moët Hennessy: a space open to all, dedicated to awareness of the challenges related to soil preservation and regeneration.
"An agricultural revolution is necessary if we are to meet the climate and ecological challenges we face. Regenerative agriculture and the science of living soils are some of the most powerful tools available to us to build a sustainable world. Coming together to find solutions and new models is our common purpose," concludes Santiago Lefebvre, founder and president of ChangeNOW.