The Mozambican government has identified 24 areas where special economic zones (SEZ) for agribusiness can be established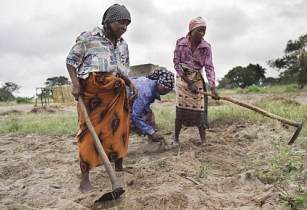 President Filipe Nyusi wants agriculture to contribute more than a fourth of the country's GDP annually. (Image source: Frei mit Quellanangabe/Wikimedia Commons)
Jose Pacheco, the country's agriculture minister, was quoted by local daily Noticias, saying that the SEZs would promote investment in key sectors which can raise agricultural production. The establishment of these zones, Pacheco said, is being coordinated with the Ministry of Economy and Finance since the private operators who invest there might be offered various tax exemptions.
The areas identified for the SEZs are located along Mozambique's six agricultural development corridors. These are the Maputo and Limpopo corridors in the south, the Beira and Zambezi Valley corridors in the centre, and the Nacala and Pemba-Lichinga corridors in the north of the country. The corridors offer opportunities in various sub-sectors such as potatoes, wheat, beans, maize, soya, rice, poultry and cattle.
In addition to the SEZs, Pacheco said that Mozambican Tax Authority may exempt import of spare parts for agricultural equipment from customs duties and value added tax.
Speaking at a meeting organised by the Confederation of Mozambican Business Associations last week, President Filipe Nyusi urged the agriculture industry to make a bigger contribution to the country's GDP. "By 2017, we want agriculture to account for 27.1 per cent of GDP, in comparison with 23.7 per cent last year", he said.
Nyusi also called for a diversification of agricultural production, so that the country ceased to be dependent on just one or two crops. "In agriculture, we have more alternatives, which will make us more sustainable," he said.