A new silo suitable for use by smallholder farmers in Africa has been launched in Nairobi, Kenya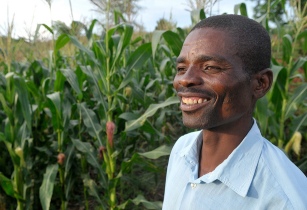 Farmers in sub-Saharan countries will be able to benefit from the new silo launched by Kepler Weber. (Image source: T.Samson/CIMMYT)
The 6.2 tonnes capacity silo made by Brazilian company, Kepler Weber, is fit for rural farmers and small sized commercial farms, the firm stated.
The silo has been designed using corrugated iron sheets and is solar power operated so that it can be used in rural areas with no electricity connection, Kepler Weber said.
The cylindrical tapering silo dubbed 'Kikapu silo' is easily loaded by hoisting grain bags manually using ropes, the Brazilian firm revealed.
The silo is easily assembled for easy handling and erection during times of grain harvesting and conservation.
"It has ventilation for drying the crop. Warm air is sucked upwards using solar power and this lowers the moisture content of the grains from 15 per cent to the recommended 13 per cent," observed Antonio Carlos de Campos, the foreign trade manager with Kepler Weber, during the unveiling of the silo in Nairobi.
According to Campos, the silo is suitable for farmers in sub-Saharan countries such as Mozambique, Ethiopia, Rwanda, Burundi, Uganda and Kenya.
"Currently, the silo is priced at US$4,500 (Ksh 382,000) and is fit for a group of farmers. Those with five hectares or more will need to purchase two silo for their grain," explained Campos.

Mwangi Mumero