Farm Africa, a charity that promotes sustainable agricultural practices, strengthens markets and protects the environment in rural eastern Africa, has announced the appointment of NFU president Minette Batters as an ambassador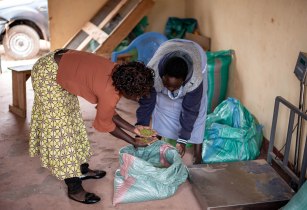 Margaret Muunde, 52, a beneficiary of Farm Africa projects, works at an aggregation center in Embu on 2 August 2022. (Image source: Farm Africa)
As part of its 'End Hunger Grow Farming appeal', the charity is currently raising funds to help farmers across eastern Africa regenerate their land, build climate-resilient businesses and grow more food. Vulnerable farming communities in eastern Africa are facing a triple C crisis as conflict, Covid shocks and the climate crisis are causing widespread threats to lives and livelihoods. Hunger is on the rise, with Ethiopia and Kenya both facing acute food insecurity.
Donations to the appeal are being matched by a generous group of Farm Africa supporters, meaning that donations received by 31 December 2022 will be doubled, up to a total of US$178,695.
"I am proud to become an ambassador for Farm Africa, a charity close to my heart. As a farmer myself, I am all too aware of the challenges farmers are facing across the world: an increasingly unpredictable climate, rapidly rising inflation and the degradation of natural resources," commented Batters. "Farmers across eastern Africa urgently need support to develop the agricultural and business skills they need to adapt to regenerate their land and grow more food. With donations to the End Hunger Grow Farming appeal being matched, now is a fantastic time to support Farm Africa's work and see the impact of your generosity doubled."
Farm Africa places a high priority on environmental sustainability and develops approaches that help farmers to improve their yields and incomes without degrading their natural resources. 'The End Hunger Grow Farming' appeal introduces supporters to farmers in rural Kenya taking part in Farm Africa's Regenerative Agriculture project. The farmers are learning about the benefits of inter-cropping, nitrogen-fixing crops, organic mature and water conservation, as well as learning business skills from finance and bookkeeping to sales and marketing
A network of Village-Based Advisors (VBAs) learn a technical curriculum of good agricultural practices for regenerative agriculture and business management from Farm Africa, and in turn train farmers. The VBAs also played a critical role in linking farmers to markets, helping farmers to collectively buy inputs and sell their produce in bulk.
"I have turned to regenerative agriculture, as taught to us by Farm Africa. This includes applying manure, which helps the plant become strong," said Juliet, a smallholder farmer from Embu, Kenya who has received from Farm Africa. "Thanks to these techniques, last year we enjoyed higher yields."