Nigeria is turning to farming as dwindling oil income has driven the economy to the brink of its first full-year contraction in more than two decades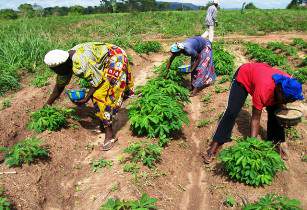 Poor yields and war disrupting agriculture in the northeast of the country has left 37 per cent of children malnourished. (Image source: IITA/Flickr)
The government plans to capitalise the state-owned Bank of Agriculture Ltd. with US$3.2bn so it can lend to farming projects at less than half the commercial rate. It is also working with the African Development Bank and World Bank to set up staple crop-processing zones with the electricity and roads needed to attract more private-sector money.
The West African nation, which grew almost all the food it consumed and topped global palm oil and groundnut production in the 1960s, ignored farming when petrodollars started flowing, leaving it dependent on crude for 90 per cent of export earnings and the bulk of government revenue, according to an AgWeb report.
Minister of agriculture and rural development Audu Ogbeh said, "It is only agriculture that's going to feed us and employ more of us, not oil."
Nigeria is sub-Saharan Africa's biggest importer of wheat, sugar and rice, according to the US department of agriculture. Other food imports range from fruit to tomato paste.
Farming in Nigeria, which consists mostly of crops such as cocoa, of which it is the world's fourth-largest producer, cassava, rice and palm oil, makes up about a quarter of the economy, and employs 70 per cent of the working population, according to the World Bank. The industry expanded in the first nine months of 2016, while factory output and mining, which includes oil, shrank. Gross domestic product will probably contract 1.7 per cent this year, according to the International Monetary Fund.
The government aims to use its farming campaign to kill achieve self-sufficiency for most consumed foods and boost its foreign-currency position by reducing imports and exporting surplus farm produce.