AFEX Commodities Exchange Ltd, Nigeria's first private-led commodities exchange, has evolved a plan that will financially unlock 50,000 farmers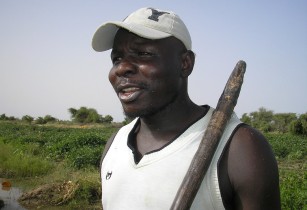 The Nigerian agricultural sector contributed 25.2 per cent to the GDP in 2019 (Image source: World Bank Photo Collection/Flickr)
Ayodeji Balogun, managing director, said that there was a need to unlock funding for the sector to enable the government to diversify the economy.
"We would be unlocking finance to about 50,000 farmers across the federation. This we will do by partnering with the capital market as well as some microfinance institutions that provide financing for the structures that we have created."
The Nigerian agricultural sector contributed 25.2 per cent to the GDP in 2019, according to the latest report by the Nigerian Bureau of Statistics. The sector employs two-thirds of Nigeria's labour, according to the United Nation's Food and Agricultural Organisation.
Without a well-developed commodities market, and unable to hedge its products, most of what is produced are wasted, up to 40 per cent, said Audu Ogbe, former minister of agriculture and rural development.
Balogun said that change is on the way. "AFEX has since reached and enhanced the livelihoods of over 100,000 farmers and aggregated 100,000 mt of grains with the organisation's overarching strategy of a national trading platform and supply chain network in carefully identified value chains. Through this, farmers and commodity merchants can access the financial markets."