The Nigerian government has planned to import food in large quantities to help overcome the poor yields experienced by farming sin the country following recent flooding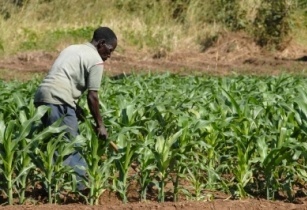 Flooding in some Nigerian villages has left farmers in the area unable to harvest some of their crops this year. (Image source: CIMMYT)
The minister of agriculture and rural development, Dr Akinwumi Adeshina, explained that when flood water levels fall the government would intervene to improve food production.
The government has mobilised more than 20,000 mt of rice seeds, enough to grow 400,000 ha of rice farm lands in flood affected areas, said Adeshina.
Nigerian farmers in the Tofani and Kofa villages of Kusada Local Government Area of Katsina State may be unable to harvest one-third of some of their annual crops this year, which could lead to a food supply crisis, according to Nigerian daily Sunday Trust.
Katsina state commissioner for agriculture Alhaji Musa Adamu, however, claimed that the destruction caused as a result of flooding would not affect the state's yearly output of crops.
"When the unfortunate incident occurred the state government had taken necessary measures of controlling the situation," Adamu said.
Some farmers also stated that the damage caused by flooding would not cause serious problems as not everybody has been affected.
"Even in the affected villages, it is not everybody that is affected. Here, in Jibia, for instance, we are expecting a bumper harvest this year because we did not experience flood," said Alhaji Adamu Jibia, a Nigerian farmer.
"I am sure the story will be the same in most of the areas that are not affected by the disaster. Take Funtua zone, only three local governments were affected and the floods affected only houses, not farmlands," Jibia added.
The flooding has caused damage to an estimated 100 houses and 146 farms in the villages of Kofa and Tofani.