Mobile technologies and digital agriculture are a great promise for the world's farmers, making it all the more important to foster appropriate institutions capable of generating innovation that benefits smallholders and disadvantaged groups, said Nobel laureate economist Michael Kremer in a special lecture hosted by the Food and Agriculture Organization of the United Nations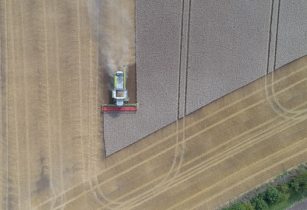 FAO has accelerated the promotion of digital agriculture and the use of smartphones to boost the productivity and livelihoods. (Image source: Shaun Coward/Unsplash)
"Digital agriculture has allowed governments to support smallholders during this pandemic, and it should also be a path to creating a better system for the future," said Kremer, who drew on recently published research that found information sharing through mobile telephony catalysed significant and measurable improvements on yields and adoption of recommended agro-chemical inputs across sub-Saharan Africa and India.
"Digital technology is not only about economics, but digital governance, digital society and a digital world," said FAO director-general QU Dongyu. He also noted his guest's lecture was held on International Day for Rural Women, who often have limited access to mobile phones- which he calls a 'new farming tool'. Emphasising the importance of rural areas and smallholders, he urged that the 'development deficit' between countries must not be replicated in a similar digital divide.
Kremer discussed prospects for digital agriculture, including the provision of higher-resolution weather information, customised pest-control advice, opportunities to improve supply chains and ways to improve extension services.
Under Qu's leadership, FAO has accelerated the promotion of digital agriculture and the use of smartphones to boost the productivity and livelihoods of the world's poorest, an effort that has become even more critical as a result of disruptions to global food systems, as well as work methods at FAO and other organisations – caused by the COVID-19 pandemic.
Highlights include the creation of an innovation office headed by FAO's first-ever chief scientist, the launch of a hand-in-hand geospatial data platform, which provides public, verified and impartial data as part of an initiative to bring more stakeholders into development efforts, and an agreement backed by more than 70 agriculture ministers to set up an international platform for development.
Ongoing FAO work uses mobile and digital technologies to help members and farmers fight invasive species and deforestation, optimise water management and land-use patterns and disseminate knowledge on food safety standards and e-commerce opportunities.