In the recent Oxford Farming Conference's (OFC) Bitesize series held in partnership with the Institute for Agriculture Management (IAgrM), the labour crisis and what farming's future workforce might look like were discussed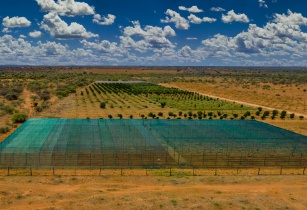 Farm labour has been declining due to mechanisation, scale economics and automation. (Image source: Adobe Stock)
Hosted by OFC director and soft-fruit grower, Marion Regan, three guests provided a different perspective, and potential route forward, for the industry. "As a soft fruit grower, I'm acutely aware of how the twin shocks of Brexit and Covid have hit us," said Marion. "Labour is a huge part of our costs and through investment over the years, we have made significant productivity gains year on year just to keep pace with its rising cost and to attract the most skilled staff.
"People are needed at all links of the food and farming supply chain and there are acute shortages throughout it of abattoir workers, fresh produce harvesters, butchers, packers, technicians. What will farming's future workforce look like? Who will they be? How will they work? And how will they be rewarded?"
Carl Atkin, the vice-chairman of the IAgrM and cofounder and director of Terravost, said that farm labour has been declining due to mechanisation, scale economics and automation, but other issues are affecting recruitment. Atkin said, "We have an issue with pay and conditions versus other sectors in the economy and we need to be honest about that. Farm work is often unsocial, it's often in remote locations and it can be highly seasonal. We also have some perception issues, some of which are real, and some perceived, that can impact recruitment." Carl believes that farming's future workforce will be smaller, more agile, and multi-skilled.
Dr Duncan Robertson is co-founder and CEO of Dogtooth Technologies, an agri-robotics company based in Cambridge. He says that automation will be critical moving forward to address the labour crisis and that the agri-robotics market will grow to US$20.3B USD by 2045. "The soft fruit industry in the UK and across the globe is facing an existential crisis unless we can find a credible alternative to our reliance on seasonal agricultural workers. We can build robots that have sufficient visual acuity and dexterity to perform delicate tasks – such as picking soft fruit. We are increasingly able to build machines against the metrics that matter to our customers and growers and can perform comparably closely with humans."
The conference provides a platform for vibrant discussion on the biggest issues facing the agricultural industry.
The 2022 Oxford Farming Conference, Routes to Resilience, will be co-chaired by Barbara Bray MBE and Sarah Mukherjee MBE and will be held from 5-7 January 2022.