Researchers at Egerton University in Kenya have collaborated with the University of Colorado to develop a simple aflatoxin kit that will help farmers in the field control food poisoning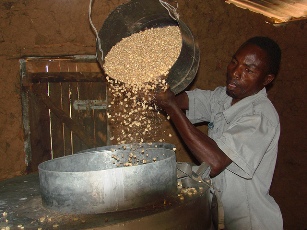 Researchers aim to combat grain losses in Kenya by devising an aflatoxin kit for farmers in the country. (Image source: CIMMYT)
The project, funded by the Bill & Melinda Gates Foundation, has allowed researchers to create a simple kit which will allow farmers to carry out tests on their grains before marketing to ascertain quality.
"The procedure involves crushing grains and then mixing with ethanol. Filtration of the mixture is then done followed by addition of a diluent cheaply obtained from research stations," observed Collins Omondi, a researcher at Egerton University Department of Biochemistry during a recent agricultural show in Nakuru, Kenya.
According to Omondi, the resulting mixture is then tested with strips similar to those used in HIV testing.
"Two lines of the strip will indicate positive result for aflatoxins. On the other hand, one line will indicate negative results on the poison", said Omondi as he explained to farmers who attended the agricultural show.
"The ongoing work will allow farmers to measure the quantities of the aflatoxins in the various grains to make decisions on marketing their produce," noted the researcher.
In many rural households, losses of 10-20 per cent of grain is reported in the first three months after storage, and this goes up to more than 50 per cent after six months.
Tegemeo Institute, a Kenyan agricultural think tank at Egerton University, estimates that post harvest losses in Kenya is around 30 per cent of all stored produce.

Mwangi Mumero