South African lettuce nursery, Jomajoco, has implemented Dutch technology in its farming methods saving 30 per cent of water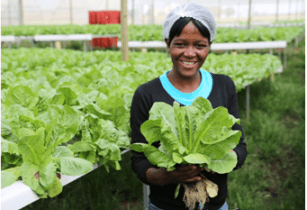 Jomajoco has been able to achieve a considerable increase in yield per m2 and to decrease water use by 30 per cent. (Image source: Hoogendoorn)
According to Jomajoco, as a result of recirculation and providing water for plant when needed, the lettuce nursery has been able to achieve an increase in yield per m2, while also reducing water use by 30 per cent (compared to open field cultivation).
The company, who produces lettuce for South Africa's biggest supermarket chain, Woolworths, said there is a huge demand on quality and sustainability from consumers so it has to therefore rely on advanced technology.
Jomajoco recently introduced Hoogendoorn automation to its lettuce nursery so that fertiliser, chemicals and water input can be kept to a minimum.
The company also rolled out its "Farming for the future" programme, which aims to reduce the use of resources and chemicals, without causing adverse effects on quality and increasing costs.
The farm, situated near Krugerdorp, South Africa, is operated by Johan van de Bosch, producing 9.5ha of lettuce undercover and 7ha in the open field, Jomajoco said.