AGCO, Your Agriculture Company, one of the leading manufacturer and distributor of agricultural equipments across the globe, has launched the new AGCO Agribusiness Qualification (AAQ) at Strathmore University in Kenya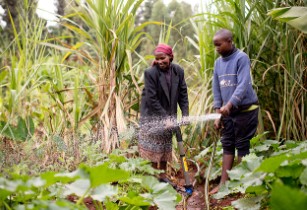 The course aims to benefits Africans in agricultural activities. (Image source: DIVatUSAID/Flickr)
According to AGCO, the programme focuses on developing the skills and expertise of the students to boost the prosperity in African agricultural sector. So far, about 20 students have enrolled for this programme.
The AAQ programme is a joint venture effort between AGCO and Strathmore Business School (SBS) in Nairobi, Harper Adams University in the UK and Kenya-based The Bridge Africa.
As reported by East African Business Week, the qualification aims to deliver an accredited two-year agribusiness programme for students aged between 20-30 who hold a degree. Upon completion, successful candidates are expected to get opportunity to join AGCO and its partners, said the source.
The AAQ aims to attract young Africans in agribusiness sector and address the management skills' shortage. According to AGCO, it focuses on fostering the expertise necessary to work successfully in the agricultural value chain and tackle the current recruitment challenges, said Gary Collar, senior vice-president and general manager for Asia-Pacific and Africa at AGCO to the source.
Commenting on the programme, a participant Ernest Muchai noted that AAQ aims to enhance productivity across the agricultural sector in the region.
According to the source, the course syllabus covers areas including agricultural mechanisation, leadership skills, business management, agricultural science, marketing and farm management.
Nuradin Osman, vice-president and general manager for Africa at AGCO, said to the source that the programme acts as a catalyst for change in the agribusiness sector across Africa.