UK-based biorational pest control solutions provider Russell IPM has developed and tested an effective monitoring system against fall armyworm (FAW)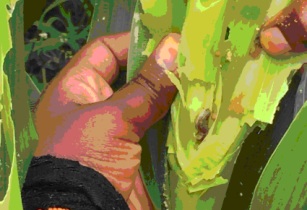 Fall armyworm caterpillars are destroying maize crops in Africa and the Americas. (Image source: Russell IPM)
FAW, Spodoptera frugiperda, is a fast-spreading pest that has been damaging essential food crops in South Africa, Zimbabwe, Zambia and Malawi.
Russell IPM has responded to the demand for an effective monitoring system for FAW infestations. In February, trials were conducted in Africa in order to optimise the company's pheromone blend targeting the devastating pest. Six different formulations of the FAW pheromone were tested in Zambia and South Africa.
According to Dr Al-Zaidi, Russell IPM's Managing Director, an effective monitoring solution has been identified. "The trial results show that the highest trap catches were achieved by Russell IPM's four-components lure. This formulation, which is specific to the fall armyworm species currently present in Africa, showed the highest efficacy. The lure and traps are commercially available from our distributors in Africa".
The lure is compatible with Russell's Mothcatcher trap, and can be used as part of an IPM strategy to combat the invasions in Africa.
Dr Nayem Hassan, Head of Research and Development at Russell IPM, recommends the following programme of treatment: "For preventative FAW control, our microbial plant booster and soil enhancer, Recharge, can be mixed with the irrigation water and applied to the soil around the plant roots. FAW pupae will not emerge from the soil. For tackling larvae at first detection and before they bore into the stem of the host plant, farmers can alternate foliar applications of Biotrine, a microbial extract, and Antario, a synergised Bacillus thuringiensis formulation. Biotrine's action is translaminar, so the active ingredient is absorbed only into the upper foliar surface. It targets larvae coming into contact with treated leaves, but the plant itself will show no pesticide residue."
Headquartered in Flintshire, United Kingdom, Russell IPM designs, manufactures, supplies and consults on innovative biorational solutions for pest monitoring and control in agriculture and public health.