As part of the UAE'songoing humanitarian works across the world, the UAE has initiated a project in Liberia to help rural women achieve sustainable income, food security and nutrition opportunities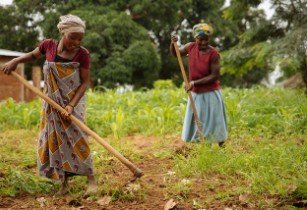 The project will provide women with improved and sustainable resources for poultry and vegetables. (Image source: IFPRI –IMAGES/Flickr)
For this purpose, the Ministry of Foreign Affairs and International Cooperation (MoFAIC), the Food and Agriculture Organisation of the United Nations (FAO) and the Abu Dhabi Future Energy Company (Masdar) have signed a US$4mn cooperation agreement that aims to support 1,500 rural women in three Liberian districts.
The project is set to provide women with improved and sustainable resources for the production of poultry and vegetables. It will provide a variety of seeds for agriculture, build integrated gardens and orchards, water wells and aquifers as part of a network of solar-powered irrigation systems.
In addition, agricultural tools and advanced machines that suit local conditions will be introduced.
The FAO will contribute to the project by supporting the intensive production of vegetables and poultry, using modern technologies and developing modern marketing plans. The project will help women strengthen their leadership skills and entrepreneurship. Flexible funding will enable the women working in poultry and vegetable production to cope with possible financial crises in their lives.
Masdar will set up a solar-powered power supply system for modern production of vegetables, poultry and rice.
Sultan Mohammed Al Shamsi, assistant minister for international development affairs at the MoFAIC, confirmed that this tripartite agreement for the implementation of the project in Liberia would be promising cooperation between the UAE, FAO and Masdar.
According to him, this partnership aims to help the women access modern renewable energy technologies and develop skills that will enable them to earn long-term income for themselves and their families.