Water consumption is the main theme of the fifth episode of Global Trends, the BKT Network format dedicated to the macro-themes and trends influencing world agriculture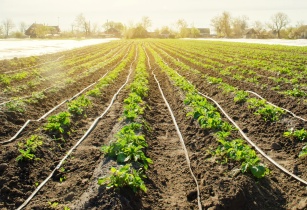 The use of water in the agriculture sector is expected to increase exponentially in the coming years. (Image source: Adobe Stock)
On World Water Day (March 22), BKT wants to address this essential issue for the future of agriculture and the planet together with a panel of international experts and professionals who helped try and answer the above questions.
The use of water in the sector is expected to increase exponentially in the coming years. According to the FAO, global food production will have to rise by 60% to meet the needs of a constantly growing population, translating into a substantial increase in crops that need irrigation.
And yet water is not an unlimited resource: of the 1.4 billion cubic km. worldwide, only 0.003% is actually available for human use. In addition, climate change will make access to and use of this important resource even more precarious.
To be able to use water in a more sustainable way, a collective effort is needed, which also goes beyond the sector.
Nicholas Brozović, director of policy for the University of Nebraska's Water for Food Global Institute said, "It's not just about involving individual farmer. Only through a wider collaboration among the parties, which also involves institutions and governments, researchers and universities and professionals in the sector, will it really be possible to see a change with more effective and intelligent use of this resource. We at the Water for Food Global Institute operate through policy research and development and through communication and education. The latter theme is a particularly important topic: raising awareness among farmers and professionals in the sector on the issue of water use in agriculture and on the need to adopt more innovative and technological methods for the management of this resource is already the first step towards widespread change."
Another important phenomenon that agriculture will increasingly have to deal with in coming years is the growing salinisation of water and soil. But thanks to technology this may no longer be a problem in the future.
Zac Gazit, CEO of ALVÁTECH commented, "There are currently tens of millions of farmers suffering from increased salinity in water and soil. And this is a problem that will not see any improvement at all in the future, indeed, by 2050 it is estimated that half of fertile agricultural land will be salinised. And it is to overcome this problem that in ALVÁTECH we have devised a sustainable technology. This does not harm the environment and makes it possible to use salinised water to irrigate crops and at the same time to reduce the salinity of the soil during the process. ALVÁTECH-treated water breaks down the layers of salt that form on the ground when saline water is generally used for irrigation, allowing the substance to permeate into the soil. This device then separates the salt into its ionic components, freeing the root zone from salt and allowing crops to grow strong and healthy. We have currently installed our devices in over 24 countries across six different continents."
Water security, and consequently food security, is an issue that particularly and closely involves geographical areas that have to deal with a serious shortage of water due to the absence of renewable sources such as rivers and lakes. The Gulf area is an example of this. In these cases, the ability to reuse treated wastewater can be a decisive solution.
Asad Qureshi, senior scientist in Irrigation and Water Management at the International Centre for Biosaline Agriculture (ICBA) spoke about his project on this theme. "Gulf states produce more than 11 billion cubic meters of wastewater each year. About 80% of this is treated and only half is reused, but mostly for landscaping and leisure purposes. At ICBA, we are committed to designing solutions to use this water for the production of crops in a completely safe way. It has not been at all easy, however, as there are very strict laws on the use of wastewater in agriculture, particularly for food crops. Water treatment costs are very high and there is the problem of the lack of infrastructure to transport this resource from treatment plants directly to the fields. Moreover, a certain cultural resistance cannot be overlooked. And yet the use of this treated water in agriculture could really be a fundamental turning-point for the sector. And not only in the Gulf, but worldwide."
Adriano Battilani, secretary general of the association 'Irrigantes D'Europe' commented, "This is a time of transition where the approach to using all natural resources is changing. And we are not only talking about water, but also about energy, food, the environment. It is not possible to reason and act considering these areas separately. One of the key enablers to make possible this transition to more efficient and sustainable use of resources is technology. But this alone is not enough, skills and training to use this technology are also needed. There is also a need for the right infrastructure and incentives for farmers, and above all a great deal of information on this issue. Farmers need to be made aware of the real implications and opportunities to improve the efficiency of water use in their operations."