Interview with Grace Musonda, Zambian teacher and farmer and regular visitor at Agritech Expo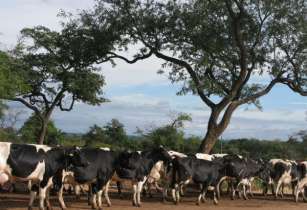 Grace Musonda, a Zambian teacher, sees women as the backbone for the development of the farming sector. (Image source: BBC World Service/Flickr)
She teaches at the American International School of Lusaka along Leopards Hill Road and her farm is in Mansa.
1. You describe yourself as a teacher and a farmer – please tell us more about your work and in particular the farming operations you are heading up, the history, the sectors you are involved in etc.
Well, I am a lady aged 40, a teacher by professional currently working at the American International School of Lusaka. My husband and I have been farming for the past 11 years now. We acquired our land in 2005, had our first crop of groundnuts in 2007. We also bought 16 heifers and one bull in 2007. We experimented with cassava growing between 2008 and 2012. As at present we are involved in maize, edible beans, cattle and are about to venture into horticulture.
2. Did the recent drought impact your farm?
Thankfully we have not experienced the drought because we are in the rain belt area.
3. Are you receiving help/advice from the government or from industry organisations?
We receive veterinary advice from government.
4. What are the main challenges facing your business at the moment?
The distance has been a challenge because we have to control everything remotely.
5. How important is technology in the future growth of agri in Zambia?
Technology is the future. It is very important because it is the way forward. We need technology for plant breeding, cattle breeding farming methods, environmental management and so forth.
6. What is your vision for the sector?
My vision for the farming sector is for more environmentally friendly farming methods without sacrificing profit.
7. Can you tell us more about the role of women in the farming sector? What has been your experience?
Women are the backbone of the development of the farming sector. Women guarantee livelihoods, especially in rural areas. As a result of their great effort in agriculture production, women production helps to guarantee their self-sustenance. Agriculture is the best business for both rural and urban women and it should come with better access to land and resources.
8. What was your experience at Agritech Expo last year?
It had grown bigger from the previous one. They were more companies displaying. There was more machinery. There was also aqua culture for the first time and a lot of livestock farmers. Informational centres were available so people can access information.
9. How important is this event for the Zambian farming community?
This event is very important to the farming community in Zambia because it helps farmers to access information about the latest technology that can help one to develop. It also helps farmers to interact with each other and get the views from others. It also exposes farmers to new technology and information.
10. What are you most looking forward to at Agritech Expo this year?
I would like to have pavilions for successful small scale and emerging farmers to showcase their work.