Zambia's agriculture minister Given Lubinda has invited Chinese investors to tap into the potential of agricultural sector in the African country, promising an array of incentives for them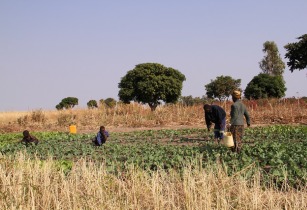 The Zambian government is offering tax sops and other incentives to potential investors. (Image source: Bioversity International/Flickr)
In an interview with Xinhua, Lubinda said that Zambia has abundant arable land, which has remained unexploited due to shortage of funds and out-dated production capacity, adding that the country was using only about 15 per cent of its 42mn hectares arable land. The Zambian minister also said that the government has put in place various incentives for various investors wishing to exploit the agricultural potential.
Explaining the Zambian government's programme, he said that more than 1.5mn ha of land will be opened for agricultural purposes in the next two years. The government has also already selected 10 areas within the country where it intends to develop farming blocks, with each block having a land space of at least 100,000 ha.
"In that 100,000 ha, we intend to give 10,000 ha to a co-venture, a major agricultural producer who should also provide agro-processing abilities and provide equipment, provide training and skills development for small-scale farmers and the remaining 90,000 ha is to be split into smaller portions of land to be given to small-scale farmers and emerging farmers," Lubinda elaborated.
The 10,000 ha of land will be given to investors for free up to 99 years. Other incentives will include tax exemption for a period of five years if a company invests more than US$500,000 and reduced electricity tariffs for investors in the sector.
Other than investment in agricultural production, the Zambian minister said that his country was interested in Chinese investors to venture into manufacturing of agricultural products as well as into aquaculture.