Zambian minister of agriculture, Emmanuel Chenda, has called for the country's government to make fertiliser more easily accessible to farmers in order to help them overcome a reliance on imports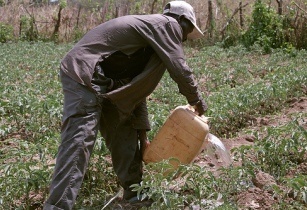 The FISP programme provides fertiliser subsidies for half of Zambia's estimated one million small farmers. (Image source: Bread for the World)
The cost of production versus the pricing of products is a problem that fertiliser producers would need to consider, Chenda said.
According to the Zambia Daily Mail the country's government was unable to find an equity partner causing plans to privatise a national fertiliser company to fail. The paper stated that the government would "recapitalise the Nitrogen Chemicals of Zambia, to the tune of US$4.7mn by rehabilitating the ammonium nitrate plant in a bid to create jobs".
Chenda said that, despite past corruption where fertiliser was bought at higher prices than needed, the government provided Nyiombo Investments a tender to provide imported fertiliser for the Farmer Input Support Programme (FISP).
The programme provides fertiliser subsidies for half of Zambia's estimated one million small farmers.
Fertiliser prices have now been slashed by 15 per cent following the awarding of contracts by the Zambian government.
The Zambian government is set to save US$17.9mn in the supply of fertiliser for the FISP, compared to its expenditure last year through a bidding process.