Zimbabwe's government has taken steps to source fertilisers from Belarus to ensure their sufficient availability in time for the upcoming cropping season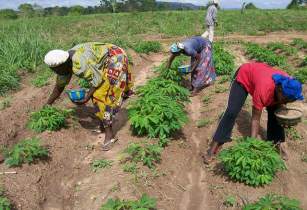 Officials are conducting soil analysis to determine the most suitable fertiliser for Zimbabwe. (Image source: International Institute of Tropical Agriculture/Flickr)
The South African nation has chosen Belaruskali, a Belarus-based fertiliser manufacturer, to supply it with the key farming input.
The deal will be financed as a part of a larger US$150mn memorandum of understanding (MoU) that was signed by Zimbabwe's vice-president Emmerson Mnangagwa and Belarusian Prime Minister Mikhail Myasnikovich in Minsk earlier this week.
"We have an agreement that we have signed for an initial US$150mn and from this fund, part of it will go towards purchasing fertiliser. This will go a long way in alleviating fertiliser shortages in our country," Mnangagwa said, while touring a Belaruskali manufacturing plant after signing the MoU. "I have been amazed by the enormous nature of the operations here and I have never seen such expertise. We are going to take such lessons so that we improve our own agricultural sector," he added.
Zimbabwe's minister for agriculture, mechanisation and irrigation development, Dr. Joseph Made, said that his ministry was working with Belaruskali to ensure that the fertiliser deal was finalised ahead of the summer cropping season this year.
"We are now at a stage where officials from my ministry are working with staff from the company to conduct soil analysis to see which fertiliser is best for Zimbabwe," he said.
Belaruskali's production capacity exceeds 12.5mn tonnes of fertiliser annually and the company does business in more than 70 countries around the world.
Other Belarusian companies are also set to provide tractors, irrigation equipment and other farm implements to Zimbabwe in order to enhance the country's agriculture mechanisation drive.