The Zimbabwean government has unveiled plans to increase wheat production by 17.6 per cent from output recorded in 2013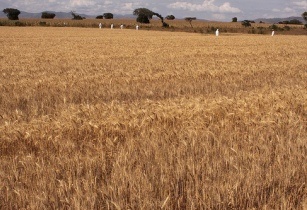 Wheat production costs are high in Zimbabwe compared to countries like Ukraine, Russia and Australia. (Image source: CIMMYT)
Finance minister Patrick Chinamasa stated that the government will work towards increasing wheat production from 24,700 tonnes in 2013 to 29,000 tonnes this year.
Chinamasa also added that wheat production costs were high in the country.
"It costs approximately US$1,200 to grow a hectare of wheat in Zimbabwe against US$230 in Ukraine, US$580 in Russia and US$600 in Australia among others," Chinamasa said.
Wheat production in the country is recorded to have fallen from 33,700 tonnes in 2012, to around 24,700 tonnes in 2013.
"This is on account of declines in the area planted from 11,600 ha in 2012 to around 8,500 ha this year," Chinamasa stated.
"Challenges that have continued to affect the production of the crop include erratic power supply for irrigation, funding and high production costs, among others, making the production of the crop unviable," the minister added.
Improved production for 2014 will depend on private sector funding and contract farming arrangements, the minister said.