As President Emerson Mnangagwahas adopted policies to attract the young and educated to farming, Zimbabwe's structural economic transformation is now expanded to the agricultural sector, catching the attention of young farmers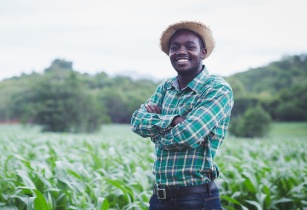 Zimbabwean youth are latching on to the sustainable farming concept. (Image source: Adobe stock)
With the country setting to harvest 2.8 million tonness of maize this year, agriculture in Zimbabwe is on an upswing and young people are the driving force
As reported in Africa Renewal, About 57% of Zimbabwean women between ages 20 and 31 and 47% of men in the same age bracket are farming fruits such as mangoes, involved in rearing livestock such as the prolific breeders Boer goats, and cultivating tobacco, corn and so on.
President Emerson Mnangagwa has adopted policies to attract the young and educated to farming.
Quoting Gift Mawacha, an agricultural historian at Chimanimani High School in east Zimbabwe, the country´s most fertile farm belt, the source added, "We are seeing a pro-youth farmer's mindset in government, which sends positive signals. And the youth are saying 'hey, we are jobless but there´s money in growing potatoes and flowers."
Conservation agriculture
The government's pro-farming mindset is tied- up in a programme called 'Pfumvudza' (meaning "Master Farmers' Revolution") through which it provides financing subsidies to young farmers.
According to The Future Agricultures Consortium, an alliance of research organisations seeking to improve agriculture in Africa, Pfumvudza consists of "minimum soil disturbance or tillage; having permanent soil cover by using organic mulch and using crop rotations and intercropping cover crops with main crops."
The 31- year-old- Prosper Bvunzawabaya returned to Zimbabwe to grow fruits after completing a degree in finance from the Southern Methodist University in Dallas, Texas, USA.
Challenges faced by young farmers in Zimbabwean
A 2020 study by Tobacco Control, which conducts tobacco research, showed that about 60% of Zimbabwean tobacco farmers were in debt.
In addition, without proper storage facilities, an oversupply of produce, especially fruits and vegetables, often knock down prices, significantly reducing earnings for farmers.
Despite all the challanges, young Zimbabwean farmers believe they are making progress. "Our agriculture is rising, and the youth are leading it this time. The future is definitely bright," concluded Prosper.