The South African stone fruit industry has drawn a line under a difficult export season that suffered from low volumes and logistical problems at ports, although improved profitability represented a beacon of light for producer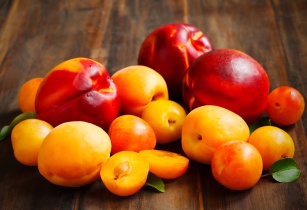 Lower volumes of stone fruit enabled producers to sell their fruit easily and at better prices. (Image source: Adobe Stock)
Following well-documented strikes affecting South African ports and railways in October last year, exporters had been hopeful of a smoother experience this season. Instead, sendings were once again beset by holdups, although exporters stressed that minimal to no delays were experienced in European ports.
"Despite all the time, effort, planning and engagement with [freight logistics provider] Transnet pre-season and during the season, we pretty much faced the same major shipping delays as last year," explained Jacques du Preez, general manager of trade and market at exporters' body, Hortgro. "Additional equipment was sourced and maintenance and repair contracts were put in place, but it wasn't enough and not good enough. The promised recovery plans after delays could not be delivered. Wind delays were also excessive this year, compounding the problems," Du Preez added.
The logistical issues, which specifically affected the Port of Cape Town, are largely being blamed for export figures falling against the previous year. The trade has also had to grapple with the crippling effects of high levels of load shedding.
The peach export season ended 13% down on the year before at 2.17 million cartons, while nectarine shipments fell 6% to 7.74 million cartons. Some 13.58 million cartons of plums were sent, which also represented a 13% fall on last season's volumes. The UK, Middle East and Far East account for over 90% of total exports of South African stone fruit, with the UK leading the way with 59%.
Despite the disappointing figures, there was positivity at the farm gate with producers reporting a more profitable season than in 2021/22. "The lower 2022/23 stone fruit volumes helped producers to sell their fruit more easily and at better prices," Du Preez explained. "It also eased the pressure on infrastructure and logistics somewhat. Next season is likely to see larger volumes again."