The International Centre of Insect Physiology and Ecology (ICIPE) has produced the world's first ever flower maps in Africa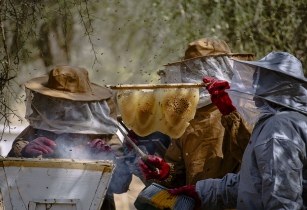 Beekeepers in Africa stand to gain a lot from the flower mapping of the continent. (Image source: CIFOR/Flickr)
Researchers at the Kenya-based institute have developed a new remote-sensing method, allowing ICIPE to produce a map of flowering plants across Africa which can be used by beekeepers to identify flowers suitable for bees.
In a paper recently published in the Remote Sensing of Environment Journal, researchers were able to show spatial distribution, abundance and the flowering cycles of plants that produce nectar and pollen needed by bees.
"Using the sensor on an aircraft, we were able to collect data on all flowering species over an area measuring 100 sqkm in Mwingi, Kitui County. It is now possible to use remote sensing to map flowers precisely," said Dr. Tobias Landmann, ICIPE's head of geo-information unit.
The information on floral diversity helps in understanding how environmental factors in a given area affect the productivity of bees or their vulnerability to pests and diseases. For instance, deforestation will indicate that beekeeping and crop pollination have been compromised.
Long-term data on flowering patterns in a given landscape would help to understand nutritional, climate and ecological stresses that trigger pest and diseases in bee colonies. This information can also be used in evaluating pollination effects and the quantity and quality of bee keeping products.
"Knowledge on floral cycles can be used to draw up flowering calendars, which categorise flowers, their value to bees, abundance, season and duration of bloom," said Dr. Landmann, noting that conservation efforts should focus on the value of flowering plants for bee keeping.
Mwangi Mumero