German flowpack machine manufacturer, Barsch, will be showcasing NatureFlex, the flagship packaging solution from Futamura Ltd., among other solutions at the world's largest show for fresh produce, Fruit Logistica, to be held from 8-10 February in Berlin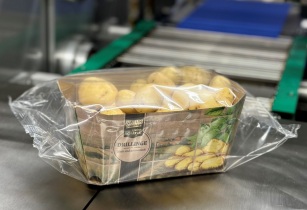 There is growing demand for environmentally responsible packaging like NatureFlex. (Image source: Futamura)
Along with pressure on manufacturers to reduce plastic packaging, consumers are also calling for more sustainable products. Renewable and derived from wood pulp sourced from responsibly managed plantations (PEFC certified), NatureFlex presents an alternative packaging solution for all kinds of packaging for fresh produce, such as tomatoes and peppers as well as potatoes.
Barsch managing director, Nadine Barsch, said, "NatureFlex is a great alternative for customers who want to do without plastic but still want to process the packaging material with the same comfort. Packing with NatureFlex is possible without adjustments and it can be processed at approximately 20 m/min."
There is growing demand for environmentally responsible packaging like NatureFlex. Futamura's range of films has been adopted by many brand owners. Not only are they derived from renewable cellulose, they also meet all the global standards for industrial composting, including BS EN13432, and many grades are compliant with the French AGEC law.
Barsch is synonymous for the reliability of its machines and high-quality technical support. Not only does the family-owned company have a significant presence in fresh produce with NatureFlex films, but also other sectors such as confectionery, medical technology and technical products. Being used in more than 100 countries worldwide, Futamura's NatureFlex films have become part of the packaging, labelling or overwrap solution for some of the world's best-known brands across a wide variety of everyday consumer goods.