2022 marks the 25th anniversary of the Dutch company Cagemax, a supplier of high-quality animal proteins and fats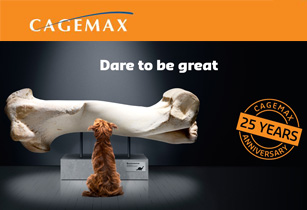 Since 25 years, Cagemax has shown that it can cope with the dynamics of the market and has managed to bind customers worldwide. (Image source: Cagemax)
In these 25 years, the organisation hasn't only grown its own worldwide business, but also its clients' in the aqua feed, compound feed, fertilisers, bioenergy and pet food sectors. Growth is an important theme for Cagemax, contributing to the healthy growth of many animals worldwide through an assortment of proteins and fats. With growing ambitions throughout the 25 years, Cagemax is a flexible partner that easily adapts to both changing legislations and dynamic market demands. One thing never changes: the market calls for quality, competitive pricing and optimal delivery reliability.
While the needs remain the same, the dynamics are constantly moving. Cagemax is the stable factor in a market that is always changing, constantly deploying its expertise and extensive network to offer a good price and exceptional quality. Logistics have been mastered down to the last detail and proprietary storage and trans-shipment facilities are in place. Enabling the team to always meet the fluctuating market demand, Cagemax stays in direct and continuous contact with many manufacturers so they can always offer customers the choice between different qualities and origins. They are also tailor-made, not just in its product range, but also in advice.
The experts are always on top of industry trends and know their products like no other. This knowledge and expertise was initially limited to ingredients for the pet food industry. Over the years, the business has also expanded its scope to the compound feed, aqua feed, fertiliser, and bioenergy industries. Since 25 years, Cagemax has shown that it can cope with the dynamics of the market and has thus managed to bind customers worldwide. It operates on the basis that if you want to be irreplaceable, you must continue to distinguish yourself. The company will continue to do so for the next 25 years.