Camvac Ltd, a prominent global supplier of metallised and transparent barrier films and laminates, is all set to revolutionise the future of laminate packaging with the announcement of its latest product, Camfoil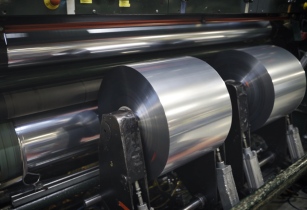 Camfoil delivers complete peace of mind to producers and consumers as it will not flex crack like aluminium foil. (Image source: Camvac)
Developed as a multi-layered metallised laminate, Camfoil delivers the ultimate light, moisture and gas barrier that maintains high performance throughout the complete supply chain. Given that it offers all the same functionalities, while removing some of its weaknesses, makes this new innovation perfect for multiple flexible packaging applications.
Created as an alternative to aluminium foil, Camfoil has also been specifically engineered for its heat seal characteristics – the film is tailored to heat seal through contamination making it ideal for powdered products such as milk and infant formula, protein and whey powders. It is also perfect for foodstuffs such as peanuts and other snacks that require robust light and gas barriers.
Typical consumer end applications for the product include bags, sachets, pouches and lidding film for products as wide-ranging as dry food, dry powder packaging and bulk shipment of high oxygen and moisture-sensitive products – including household cleaning products. Camfoil is available as a triplex extreme barrier laminate for further conversion downstream and Camvac can supply a print-receptive finished goods laminate with a range of sealant webs, including PE, PET, CPP and OPP.
Gary Chalkley, Camvac's director of product development stated that Camfoil was a truly next-generation laminate that was setting a new high bar for barrier packaging. He highlighted its ability to eliminate the risk of pin-holding, as well as its potential to provide an excellent gas and water vapour barrier and extend product shelf-life.
Camfoil is found to be most suitable for extreme applications including vacuum insulation panels that contain silica or liquid cleaning products, as well as regular and powdered foodstuffs. Unlike aluminium foil, Camfoil refuses to flex crack, thereby reducing the risk of damage during transport and allowing goods to stay fresh and usable for longer periods of time, offering greater value for money. The product therefore, delivers complete peace of mind to producers and consumers and is also compatible with existing packaging machinery.
"Camfoil is a premium, market leading product for performance and packaging applications. The laminate is further enhanced by its sealant web which can be tailored to your packaging's bespoke end use. It utilises locally sourced raw materials, so we are offering customers improved supply chain resilience too," remarked Chalkley. "Camfoil is a first-class material that sustains product integrity through its entire lifecycle. It is goodbye aluminium foil and get ready for real flexible packaging revolution!"
For more information, visit: https://www.camvac.com/