Ag Growth International Inc. has announced its financial results for the three and six-month periods ended June 30, 2017, and declared dividends for September, October and November 2017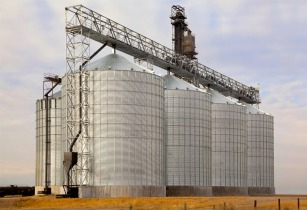 (Image source: aggrowth.com)
Trade sales and adjusted EBITDA significantly exceeded previous highs due to AGI's strong market position in the robust farm and commercial markets, improving demand for portable grain handling equipment in the U.S. and the contribution of recent acquisitions as AGI continues to diversify its geographic and end market exposure. Higher sales and a continued focus on operating margins resulted in a significant increase in adjusted EBITDA, profit and profit per share compared to the prior year.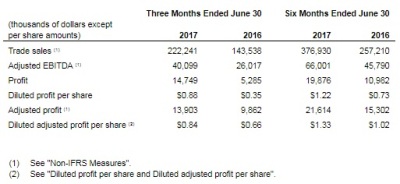 "Strong performance in our farm and commercial business units resulted in record second quarter results." said Tim Close, President and CEO of AGI.
"We are seeing positive year-over-year increases in many parts of AGI as we focus on our customers and realise the benefit of both organic investment and recent acquisitions. Acquisitions in 2016 and 2017 added meaningful contribution to these results however we are just starting to see the potential of our investments in Brazil, our fertiliser and seed platform, our global commercial platform and our Food equipment division. We have made substantial investments in these initiatives, we are making good progress on each, and we are excited about the near-term growth potential as we pursue our field to consumer strategy. We are also continuing to invest in these initiatives in terms of people and capital while exploring new opportunities to expand each platform."
Offshore, AGI's project sales backlog has increased significantly in recent months, particularly in the Black Sea region and South America. Management anticipates second half international sales will be well above the prior year due to higher project sales, continued robust demand in Europe, the Middle East and Africa and international sales from recently acquired Yargus Manufacturing, Inc. and Global Industries.
AGI has manufacturing facilities in Canada, the United States, Italy, Brazil, South Africa and the United Kingdom, and distributes its products globally. Ag Growth International Inc. is a manufacturer of portable and stationary grain handling, storage and conditioning equipment, including augers, belt conveyors, grain storage bins, grain handling accessories, grain aeration equipment and grain drying systems.