Danone SA has announced it is buying a 40 per cent stake in Kenyan dairy company Brookside Dairy Ltd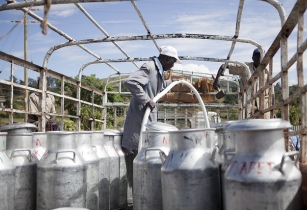 Brookside is one of East Africa's top dairy producers. (Image source: Gates Foundation/Flickr)
The financial terms of the deal have not been disclosed, but Reuters reported that the agreement had received the seal of approval of the controlling Kenyatta family earlier this month.
The French dairy giant, which generates more than 60 per cent of its turnover in the emerging markets, is seeking to expand its footprint on the continent, with the deal representing the latest move towards achieving this goal.
Danone has spent more than US$1.35bn on pursuing its African strategy during the last two years, acquiring a controlling stake in Morocco's top dairy company Central Laitière, and buying a 49 per cent stake in Fan Milk International, West Africa's largest frozen dairy producer.
The deal with Brookside will allow Danone to enter one of the largest milk markets in Africa, with one of the top dairy producers in East Africa.
The Kenyan firm claimed annual revenues of US$142mn last year, with a 40 per cent market share in Kenya and more than 140,000 milk farms across the region.