The Nigerian government has revealed it spends more than N24.5 trillion (US$155.5 million) per annum on the costs of importing food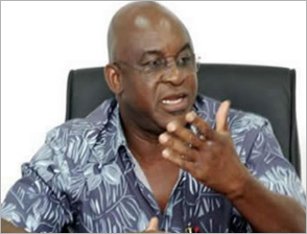 Nigeria senate president David Mark spoke at the awards ceremony of Nigerian Institute of Animal Science. (Image source: odili)
Speaking at the awards ceremony of the Nigerian Institute of Animal Science (NIAS), Nigeria senate president David Mark said the figure excluded food commodities and animal produce that had entered the nation illegally.
"Statistics for 2011 showed that Nigeria spends only three per cent of its national budget on the agricultural sector. Only five per cent of our farmers have access to modern seeds, while the nation uses 13 kilogrammes of fertiliser per hectare," said Senate Committee on Agriculture and Rural Development chairman Emmanuel Bwacha.
The nation's farm yield has dropped to a record low of one tonne per hectare, far short of the global average of five tonnes, while storage systems across the country have also been neglected.
Expressing regret at the little attention given to the agriculture sector in Nigeria, Bwacha noted that only a meagre one per cent of bank loans go to the sector, despite being responsible for the employment of about 70 per cent of the population and accounting for 44 per cent of Gross Domestic Product (GDP).
Bwacha said the statistics did not come as a surprise given the deterioration in the agricultural industry since the discovery of oil resources.
He did, however, commend the steps taken by various organisations to revamp the sector and stressed the need to take action to reposition the agricultural sector, especially the animal husbandry sub-sector.
NIAS president Placid Njoku spoke about the progress and expansion of livestock and feed industry.
"The commercial poultry sector has increased from a population of 20 million in 2007 to 40 million in 2011. The pig industry recovered from the African swine fever devastation, with the population rising from 1.4 million to 6 million through improved animal husbandry and bio-security within the period," he pointed out.
Njoku revealed that the feed milling sector witnessed significant expansion with an estimated industry turnover of two million metric tonnes in 2011, even as feed ingredients became more scarce and prices skyrocketed throughout the period.