PML Kenya has invested US$300,000 in a new vacuum cooler system designed to provide customers with an affordable and highly efficient temperature control measure to improve cool chain management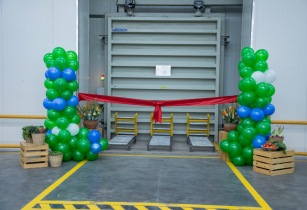 The state-of-the-art system cools products from 20-30°C to 1-5°C in just 15-30 minutes and has a maximum capacity of 4000 kg. (Image source: PML)
The new Weber Next Gen EU8 EP vacuum cooler boasts the very latest technology and is widely acknowledged as the best system on the market extending the life of products by 2-7 times longer than regular cooling methods. The state-of-the-art system cools products from 20-30°C to 1-5°C in just 15-30 minutes and has a maximum capacity of 4,000 kg. Based at Mitchell Cotts Air Cargo Terminal at Jomo Kenyatta International Airport (JKIA), Nairobi, the cooler is uniquely located to provide both landside and airside access.
The convenient siting of the facility ensures that customers can deliver products landside, have them vacuum cooled and then stored in cold rooms. The already cooled shipments can then be seamlessly delivered to the aircraft (airside) directly from the cold stores within the shortest possible time frame, reducing exposure times and effectively maintaining the cool chain to maximise shelf life for products including flowers, herbs and vegetables.
PML Kenya has a prior working relationship with Mitchell Cotts – as a customer for carriers handled by the freight forwarder – however, the vacuum cooler initiative represents the first major project where the two companies have joined forces as business partners.
By investing in this value-added service, PML Kenya is anticipating increased business from both existing and new small holder shippers and growers, who will be keen to benefit from the cost effective and easily accessible vacuum cooling solution. The equipment which is already in use, was commissioned on 13 December 2022, and launched on 12 January 2023.
In the long term, PML Kenya will continue to invest in technology to further enhance its cool chain management credentials and is further looking to install a blast chiller at the same facility, offering a cooling system for products that arrive on site hot but which don't qualify for vacuum cooling.
Silas Kashindi, group director at PML Kenya said, "Investing in future perfect technology has always been part of the PML ethos, as is delivering a superior level of customer service to our customers. This latest investment is a perfect example of our ongoing commitment to providing a best-in-class cool chain management solution to our clients and collaborating with like-minded businesses - who share our vision and values – to achieve this."