STATEC BINDER is the global specialist for packaging and palletising of free-flowing bulk materials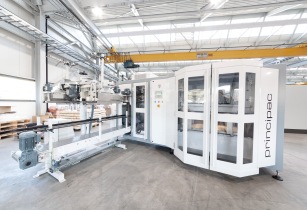 The broad product range of STATEC BINDER is rounded off by robotic, high-level and portal palletising systems (Image source: STATEC BINDER)
From food such as flour, corn, or grain, through animal feed, to fertilisers for agriculture: STATEC BINDER offers high-performance solutions for packaging, bag closing and palletising for a wide variety of products and is always eager to find the perfect tailormade machine for customers.
The PRINCIPAC, CERTOPAC, ACROPAC and CIRCUPAC open-mouth bagging systems are designed for polyethylene (PE), woven polypropylene (PP) and paper bags with a filling weight of 5 kg to 50 kg. The high-performance segment is complemented by the SYSTEM-T FFS (Form-Fill-Seal) machine for bag processing from tubular film and the SYSTEM-F vertical FFS machine for bag processing from flat film.
The broad product range of STATEC BINDER is rounded off by robotic, high-level and portal palletising systems. The PRINCIPAL-H, PRINCIPAL-R and PRINCIPAL-P palletisers are characterised by their high efficiency and adaptability. High-performance net weighers and bag closing systems ensure precise weighing and dosing, as well as a secure closure of bags.
Customers all over the world put their trust in STATEC BINDER machines every day. The Customer Service Team also provides optimal support and training. The service team supports customers after they have purchased the machine by providing expert advice, a high level of service competence, and assistance with issues such as spare part deliveries. The customer service is characterised by top trained employees and online service with realtime support. Complete customer satisfaction is the top priority.
Learn more about STATEC BINDER's high-performance packaging and palletizing systems at: https://www.statec-binder.com/en/products/