Symaga, specialised in the design, manufacture and marketing of galvanised steel silos for the storage of grain, has announced to maintain a continuous business plan to equip the company's modern production and the total control traceability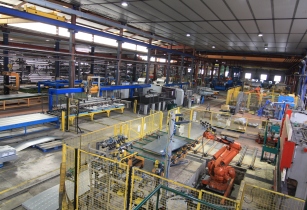 The 2016-2018 Investment Plan will add an additional 30 per cent mechanisation and full automation of punching and profiling processes. (Image source: Symaga)
In 2015, the automation rate of Symaga's production was at 80 per cent. The company now embarks on a plan to achieve full automation for its factory.
According to Symaga, "The 2016-2018 Investment Plan will add an additional 30 per cent mechanisation and full automation of punching and profiling processes. These investments translate in a 30-40 per cent productivity increase for these lines."
"Among our most recent additions, two intelligent robots now help in welding operations, reassuring quality and full compliance, while a new robot cell perfects compression rings, the most complex part of the hopper silos. In addition, die-cuts are acquired to improve welding quality in silo's outlet, reddler supports and access doors," Symaga further added.
With a new four-kilowatt fibre laser and a folding cell, the company is seen to achieve productivity gains of more than 40 per cent in cutting and performing processes. In addition, a high-performance punching line keeps top quality for its hoppers and support towers.
Symaga reinforces its position as one of the leading, doubling production and technical capacities around the world, making it a quality supplier for the largest storage projects in the world.
"By 2019, the process of improvement in welding and bending lines is to continue, with plans for acquisitions of a high productivity drill for profiling," the company added.