The United Nations has revealed it has invested more than US$32mn in Ugandan agriculture since 2009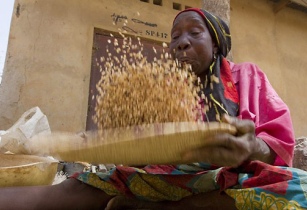 The WFP has trained more than 16,000 farmers in grain storage and handling practices in 2014. (Image source: Gates Foundation/Flickr)
Operating through its subsidiary, the World Food Programme (WFP), the UN targeted the funds at infrastructure and training to improve market access and agricultural productivity, particularly with regard to the production of grain.
"WFP is providing more than 1,000 farmer groups with critical information, skills and modern tools which enable them to access the quality grain market," stated Michael Dunford, WFP's acting country representative.
Sub-standard storage and handling practices, as well as a lack of adequate storage facilities remained major obstacles to formal market access, Dunford explained, often reducing the quality of grain produced in Uganda.
The agency said it had therefore trained more than 16,000 farmers in 27 districts in 2014 alone, as well as purchasing 62,000 pieces of grain storage equipment for rural households.
"By building warehouses and establishing local storage facilities, WFP has increased grain storage capacity in Uganda by more than 25,000 metric tonnes and helped to stimulate trading," Dunford added.
More than 60 per cent of the US$32mn investment over the last six years was funded by the US, with support from Germany, Japan and other organisations such as Bill and Melinda Gates Foundation.