BKT officially unveiled its new latest-generation tyres on the occasion of the internationally renowned Agritechnica 2023 which kicked off on 12 November in Hanover, Germany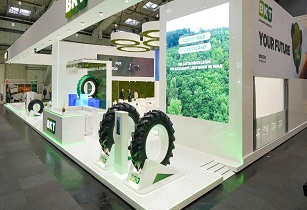 BKT awaits visitors at Stand A36 in Hall 7 at Agritechnica 2023. (Image source: BKT)
FORESTLAND, BKT's most recent and most innovative conventional tyre for the agro-forestry sector has been designed for the most demanding applications, its polyester carcass and specific tread compound making it particularly cut-and-chip resistant, while the robust sidewall ensures a long product life-cycle.
Another new radial tyre designed by BKT is the new FORESTMAX, used for tractors in forestry applications and some agricultural operations. Standing out for the robustness provided by its tread compound, cut-and-chip resistance, and steel-belted structure that significantly reduces the risk of punctures, FORESTMAX also ensures excellent traction and stability, even on rough and uneven terrain. Moreover, it also provides good self-cleaning capabilities and a long tyre life.
At Agritechnica, BKT also presents POWERTRAILER SR 331, an All-Steel radial tyre for both field and road applications, providing top flotation in the fields and excellent traction on the road. Finally, to complete the novelties, there is the brand-new size of AGRIFORCE BK T71, the rubber track for agriculture.
Special space is also reserved for BKT's flagship products, starting with AGRIMAXFACTOR, the recent 70-series tire for tractors that combines technology and aesthetic design resulting in superior drivability. Also on display are the two radial tyres RIDEMAX FL 615 and FL 695. The former is designed for free-rolling wheels of agricultural trailer, tankers, and spreaders, while the latter suits for trailers in construction and farming transport activities.
Visitors will also be able to watch and take part in immersive digital experiences, freestyle football shows, networking activities and much more.
"For us, Agritechnica is an important moment of sharing and interaction with our global farming community, the beating heart of BKT ever since," said Lucia Salmaso, managing director of BKT Europe. "This trade show is a showcase that allows us to demonstrate our willingness to look to the future by leveraging innovative and cutting-edge products."
BKT awaits visitors at Stand A36 in Hall 7 at Agritechnica 2023.
For more information, visit: https://www.bkt-tires.com/Viewdoc.cshtml?co_id=1