Bobcat exhibited three telehandler models, including a preview of the new super compact TL25.60 AGRI model at SIMA 2022 which took place from 6-10 November in Paris, France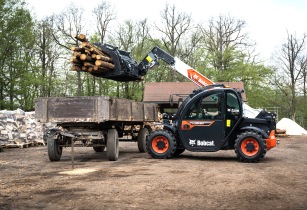 The star of the show was the brand new super compact TL25.60 R-series telehandler. (Image source: Bobcat)
The latter was accompanied by the top-of-the-range TL43.80HF AGRI and TL30.70 AGRI models, all part of Bobcat's new generation R-Series telehandler family. The brand new MT100 mini track loader also made its first appearance at SIMA. The star of the show was undoubtedly the brand new super compact TL25.60 R-series telehandler. With a lifting capacity of 2.5 tons and a lifting height of up to 5.9 m, this new Bobcat addition is the most compact model in the range.
"The TL25.60 may be super compact, but its cab is identical to that of Bobcat's largest R-Series model, which makes it the most spacious super-compact telehandler on the market today. The agricultural version of the TL25.60 will be launched in 2023," commented Florian Hilbert, Telehandler product manager for Bobcat EMEA.
The new R-Series generation of telehandlers provides a top-notch user experience. The completely redesigned cab is a modern, intuitive and intelligent workspace offering an unparalleled level of comfort. When supplied as an AGRI 3* version, one of four packages for the agricultural market, Bobcat provides farmers with an excellent tool for their everyday work.
At SIMA, the company exhibited both the TL43.80HF and the TL30.70 in the AGRI 4* configuration. All Bobcat telehandlers are designed and manufactured in France at the Bobcat factory in Pontchâteau and benefit from a 3-year/3000-hour manufacturer's warranty offered as standard (which can be extended to five years/5000 hours).
The new Bobcat L28 small articulated loader, equipped with AGRI wheels, was also present at SIMA. This model offers high lifting capacities in tight spaces, with exceptional ease of use thanks to simple and intuitive controls, and low soil disturbance to work on all terrains. The L28 model is fitted with a telescopic lift arm which increases height and reach to 2.65 m.
Visitors were also able to see and try out the latest MT100 mini track loader, which was launched a few weeks ago. With a standard width of 904 mm, the compact dimensions of the new MT100 make it possible to pass through narrow gates and other entrances. They also make it easy to work in tight spaces, while still delivering a powerful performance and high strength. The L28 and MT100 are also part of the new Ground Maintenance Equipment (GME) range from Bobcat.
"Bobcat aims to become one of the top three manufacturers of ground maintenance equipment in Europe," stated senior product manager for the GME range, Gul Nalcaci. "To achieve this ambitious goal, we are rolling out our range across the region. Bobcat's EMEA offering will include compact tractors, zero-turn mowers and lawn care equipment, which will join the brand's lightweight articulated loaders and mini track loaders."
By enriching its product offering, Bobcat is strengthening its development strategy in the agricultural sector, and supporting the dynamic activity of the specialised plant in Pontchâteau. After several new investments to develop the plant, this unique Bobcat site is producing telehandlers at full capacity to meet the expectations of Bobcat customers worldwide.
For more information about Bobcat and its products, visit www.bobcat.com.